Egg collection systems are essential for managing layers and breeders, whether they are on the floor or in cages. They offer many benefits, such as saving time and labor costs, providing better egg quality (cleaner and fewer cracked eggs), and accurately counting the total number of eggs produced per tier, row, or house.
Additionally, these systems are designed to meet even the most demanding standards, with gentle transportation of the eggs, high functional reliability, and easy handling.
EggStream Egg Collection System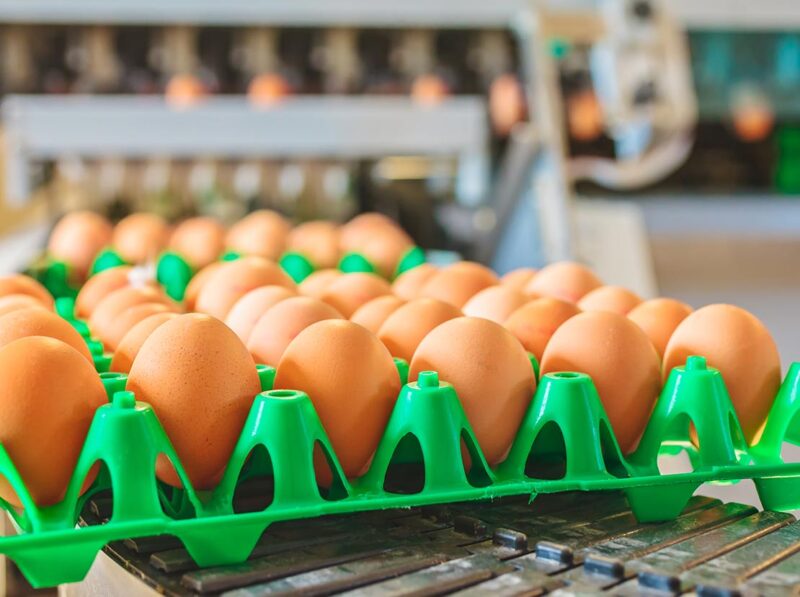 TEXHA offers an advanced egg collection system that can greatly improve the efficiency and profitability of poultry farming operations. Their comprehensive range of services can be tailored to suit all types of poultry farms. Customers can benefit from expert consultancy services to design and plan the ideal systems for their business. All installations are fully guaranteed, ensuring any issues can be resolved promptly during and after installation.
The automation of the egg collection process guarantees the following benefits: high performance, reduced stress for the birds, low egg damage rate, compliance with biological safety requirements, and decreased labor intensity. The lift-based egg collection system includes drive stations for each battery, lengthwise egg collection belts, a crosswise egg collection conveyor that runs between the levels, and a stacking table for manual egg grading.
ST Elevator
Looking for a reliable way to transport eggs in short systems? The ST elevator is a great option, transferring eggs onto the chain in a specific pattern to avoid overcrowding. It's also perfect for collecting eggs from different age groups in a single barn. To ensure optimal performance, we suggest using separate egg belts and elevator chains.
With the ST elevator, dosing wheels transport the eggs onto the chain and move them down to the sliding grille. From there, the chain turns and moves the eggs up to the desired height where they can be transferred onto the cross belt. This can be done at any height.
Lift System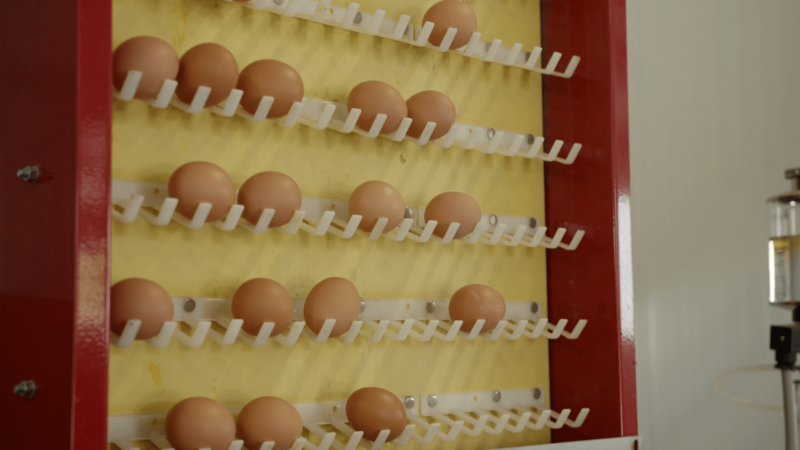 To save space and make egg collection easier, we suggest using the lift system for multi-level nests. This system collects eggs from all rows at once, using only one transfer point for gentle transport. After all the eggs are collected, the lift moves to its parking position, which can be over 2 meters high. Plus, the lift takes up very little space in the set area and can even retrieve any eggs that were missed in the system. For optimal hygiene, it's best to install the lift in the service room.
This lift system efficiently collects eggs from all tiers and rows at once, using a cross conveyor that moves to each tier individually. It is especially useful for small units or individual houses, and when eggs are not collected per flock. The eggs are transferred gently with only one transfer between the longitudinal and cross belts.
To match the conveying capacity with the egg grader's performance, a frequency regulator should be installed. The lift system's benefits include smooth and gentle egg transport, easy access to all rows, and requiring little space in the end set area. Additionally, it can be combined with any cross-collection of any width.
Curve Conveyors
We understand that farms have different layouts and heights, which can require unique solutions for egg transportation. That's why you can find custom-made egg cross-transport solutions. Curve conveyors are highly flexible and can adapt to any type of layout.
The core component of curve conveyors is a chain made of galvanized or plastic-coated material. This chain has two hardened outer chains with weld-on cross bars. The cross bars on our standard conveyor chain are all at the same level to ensure a smooth transfer of eggs without any accumulation along the inner radius of the curve.
EggTrax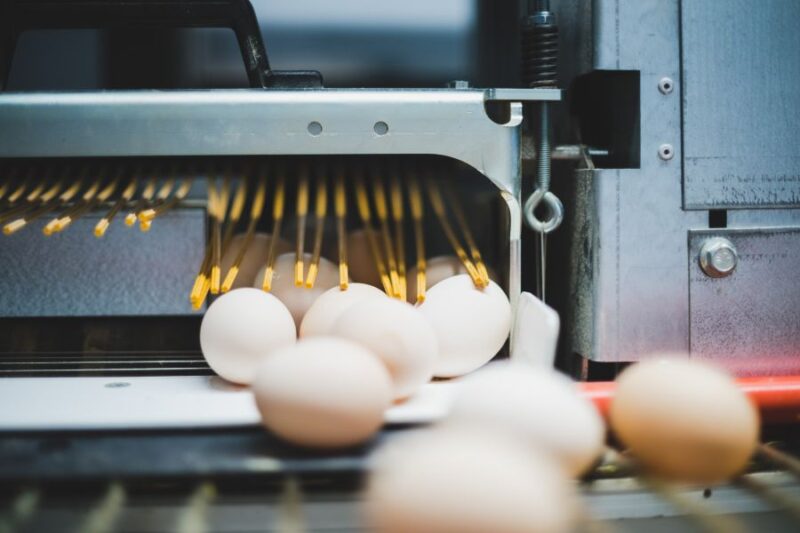 The EggTrax egg belt drive is designed to transfer eggs from the longitudinal egg belt (nest) to any connected egg collection system in a gentle manner. It operates at a speed of 2.6 m/min and is available in different widths, including 245, 350, 400, and 500 mm. The reinforced drive unit has several advantages, including the ability to be removed single-handedly for easy cleaning using a high-pressure cleaner.
Additionally, the anti-crack fingers provide light pressure on the eggs, ensuring a controlled transfer to the cross belt. The tension-adjustable wire threads allow for a smooth transfer of the eggs while simultaneously allowing feathers, dust, and eggs without shells to fall down between the threads.
Rod Conveyors
Looking for a way to transport eggs that is both flexible and cost-effective? Consider using rod conveyors. These conveyors are commonly used in alternative egg production to connect the nest with the cross-collection. Although they can only be used in a straight direction, they are made of small, stabilized plastic tubes that are connected by a roller chain on both ends. The distance between the rods is small enough that even smaller eggs cannot fall through, despite possible gradients of up to 25°.
EC Elevator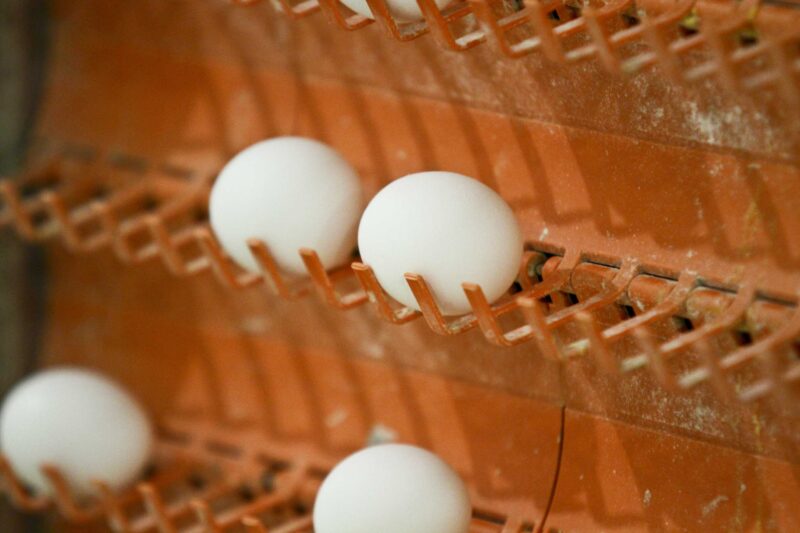 The EC elevator is a space-saving system that has a large capacity for collecting eggs. It is especially useful for multi-level houses (up to three levels) and can collect up to 15,000 eggs per hour. The elevator is equipped with an extra wide elevator chain, making it an efficient egg collection system that doesn't take up much space. Additionally, a new feature allows the elevator to collect eggs that were mislaid in the system. All belts either run into the elevator in parallel or system eggs are collected separately.
EggSort
EggSort has a gentle egg collection process that ensures maximum smoothness. This is achieved because there are very few transfer points, thanks to the longitudinal egg belt that runs over the table. The best part is that no additional drive units are needed.
This product has several benefits that make it perfect for manually gathering eggs. The egg belt brush is integrated into the design to ensure the belts stay clean, and the product is built to last with durable construction.
Ultrasound Cleaning Unit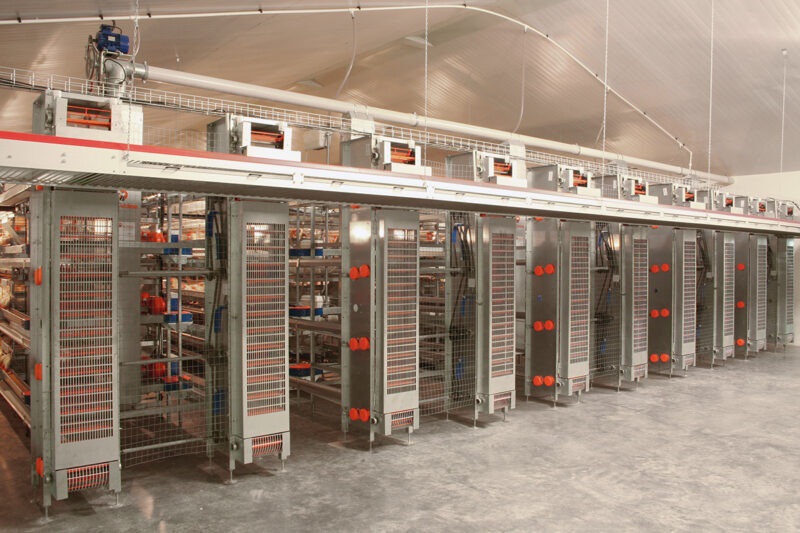 To ensure optimal hygiene when transporting eggs, you can find two cleaning units that come in both stationary and mobile versions. These units reliably remove dirt from the chain of the curve conveyor, preventing the spread of bacteria, salmonella, and fungi.
The cleaning units use ultrasound technology along with hot water and a special cleaning agent to clean chains. The compact unit can clean up to 200 meters of the chain before the basin needs to be refilled, while the larger unit can clean chain sections of up to 600 meters. However, multiple repetitions may be required depending on the level of contamination.
EggCam
The egg counting system boasts high accuracy in recording every single egg thanks to its innovative camera technology with integrated image processing. The EggCam camera "sees" every egg on the conveying path with high resolution, ensuring that no egg is missed. This camera can be installed either at the longitudinal egg belt in every tier or at the cross belt, and can work on up to 14 cm wide fabric or rod belts in cage systems and up to 35 cm wide rod conveyors in floor production.
Digital EggFlow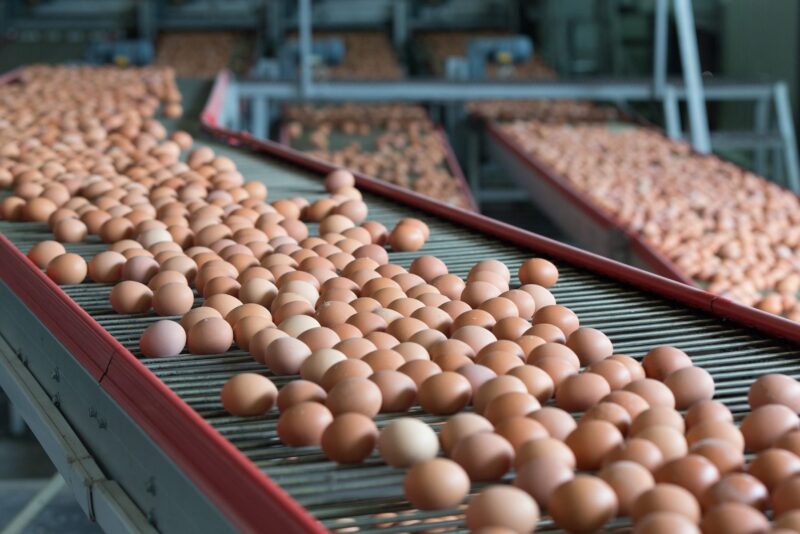 With Digital EggFlow, you can take full control of the egg flow all the way to the packer, even at maximum grading capacity. It allows you to adjust the egg belt speed according to the total number of eggs from different houses. This ensures that your graders and packers are utilized optimally.
Conclusion
Graders and packers are constantly working at full capacity to ensure the best quality eggs. The transportation process is smooth and gentle, ensuring that the eggs remain top-quality. The belts are automated to start in the morning and stop directly at the packer, making the process more efficient. Collection groups can be planned a day ahead of time to ensure maximum filling rates in all houses belonging to the same group.